SUI Calendar 2.0 Online Help - System Preferences
System Preferences allows the System Administrator to edit SUI Calendar system default settings. To change the preferences, login to SUI Calendar as System Administrator then click Preferences in User Info.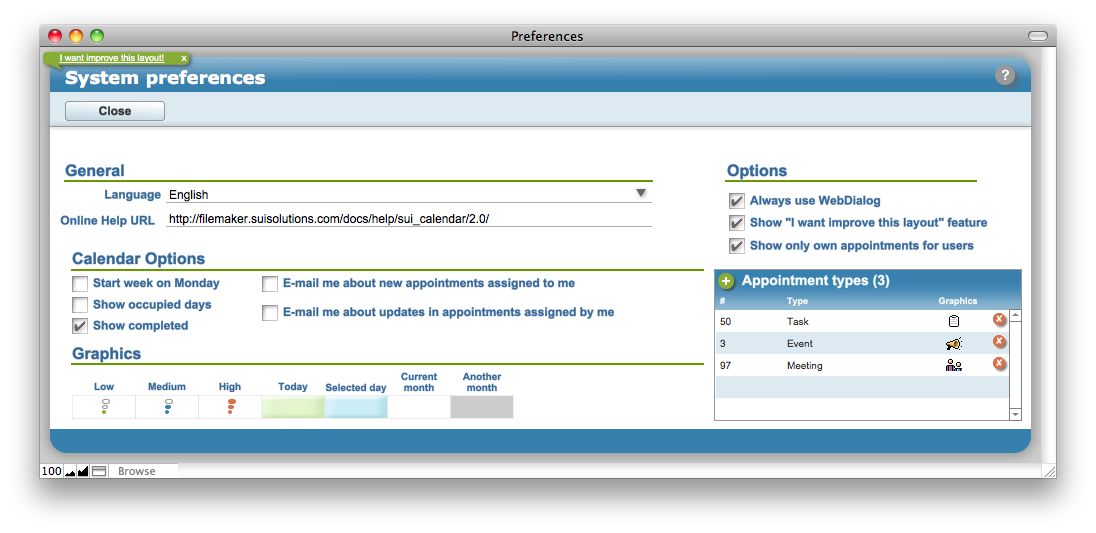 General
Select the system default language from the Language drop down list.

Change the Online Help URL field if necessary.
Options
Check next to Always use WebDialog to display confirmation dialog boxes outside of IWP mode.

Check next to Show "I want to improve this layout!" feature to enable the feature

Check next to Show only own appointments for users to provide users with only access to their own appointments (strongly via Assigned to field).
Calendar Options
Check the Start week on Monday check box for setting Monday as the first day of the week.

Check the Show occupied days check box to view days with appointments as underlined in the Calendar Navigation Component.

Use the Show Completed check box to show or hide completed appointments.

Use the check boxes for e-mail notifications to remind other users and yourself about created, completed or commented appointments.

Note: In order to receive these e-mail notifications, your e-mail address must be included in your User Profile.
Graphics
Calendar backgrounds (Today, Selected day, Current month, Another month).

Priority type icons (Low, Medium, High).
Appointment Types
To add a new appointment type, click New .

Insert the MultiLang Label Id to the # field and insert the picture in the Graphics field.

Click Delete near the type to delete.